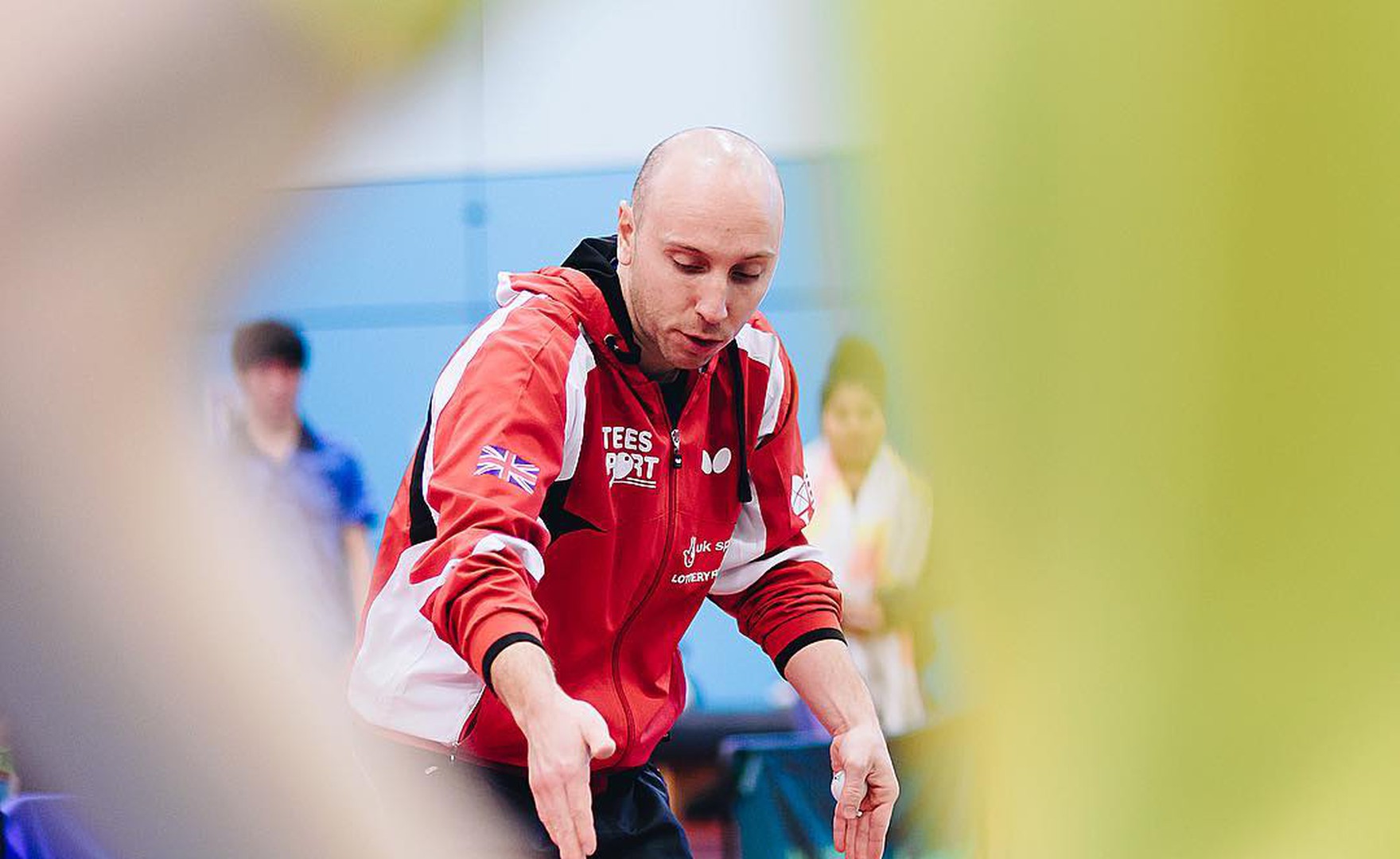 We are very honoured to have been given the chance to speak with the very inspirational Greg Baker who is the head coach with British Para Table Tennis. He has very generously shared an insight into the world of high-performance coaching.
What made you pursue a career in sports coaching?
Sport has been a part of my life from the age of six. I have always loved it, the benefits it can bring to an individual's life and the connections/relationships that can be established. I was fortunate enough to represent my country at Junior and Senior level. However, it was within my Junior athlete career that I had an obsession on not only to improve myself, but also to enhance the development and progression of people around me. This led to me wanting to understand more about coaching, the critical role it plays in developing athletes and the journey coaches go on with their athletes and teams. This passion in sports coaching primed me to want to learn more, do more and reflect more about my own coaching performance and how to become the best version at what I do.
You're head coach at British Para Table Tennis - can you tell us a little bit more about what your job entails and about the team you work with?
I have been responsible for leading and managing the British Para Table Tennis World Class Performance Coaching Programme through the London 2012, Rio 2016 and currently Tokyo 2020 Paralympic cycles. My role involves working with a range of athletes who are either on podium potential or podium level funding and to help them improve performances across the year with a view on getting the athletes best prepared for each major competition of the season – European Championships, World Championships, Paralympic Games.
To assist the athletes in doing this I work with a multi-disciplinary team (MDT) consisting of coaches, sports science staff and a head of performance support (Hops). We work and collaborate significantly together to find new solutions of increasing performance for each athlete whilst understanding and improving how we are working together as a staff team, with an ultimate view on being better at leading the athletes we work with. My role is very diverse, in that I work technically and tactically with the athletes on a day-to-day basis, but also work increasingly with coaches and sports science staff to analyse and evaluate how we are operating together under times of stress and pressure – to ultimately be able to improve decision making under pressure, increase resilience and determine how we are collaborating when emotions are heightened.
What have been some of your career highlights?
There have been numerous occasions during my career to date where elation has been high, and a sense of achievement or accomplishment has been met.
The London 2012 Paralympic Games offered a real sense of togetherness and achievement for both the whole British Para Table Tennis Team and myself. This is where we put ourselves on the international landscape and showed the world what we can do. In London we achieved four medals, which resulted in the best games for us in over 20 years. Personally, for me, it was an emotional time, as four years before I was part of the staff team who went to the Beijing 2008 Paralympic Games where we did not secure a medal and therefore under delivered. So, to see the sport exceed its expectations and achieve the medals in London four years later, gave me a sense of pride, accomplishment and a realisation that with hard work, collaboration and purpose, results can be significantly improved.
A real sense of making history and a momentous career highlight for me came in the Rio 2016 Paralympic Games. In these games the sport won two gold medals and one bronze medal putting us in the top four of the medals table. It was the best Paralympic games in the history of the sport. To see athletes, achieve these medals, understanding the work they have put in and the journey it has taken for them to get there is something I will never forget. To watch these athletes, grow from young aspiring athletes to senior leading gold medallists is the reason I do what I do.
What advice would you give to new coaches?
My biggest advice to new coaches would be to listen and never stop wanting to become better at what you do. High performance coaches work in a world which is ultimately so focused on the end goal and outcome, whether this be a world championships or an Olympic/Paralympic Games. Coaches work tirelessly and selflessly to improve athlete's performance and develop them into outstanding elite athletes.
My advice therefore would be to stop and pause and make sure you are developing yourself, reflect on your own coaching practice and regularly seek feedback from the people you work with, as this will be the best way to truly understand about how your own behaviours impact the way you coach. With this information you can really start to change the way you coach for the better. Likewise, don't become the isolated silo coach and do everything your own way. What I have found over the years is that we don't have all the answers as coaches, and we need people around us to guide us into making the right decisions and to problem solve effectively. You can't do it alone in high performance coaching, use your key people and support networks around you to enhance your own coaching and use your own skills to help those people too.
Why do you think coaching is so instrumental in helping the athletes achieve such strong results?
Coaching is about connections, relationships and people. The more coaches understand and show a willingness to go the extra mile for athletes, the stronger the bond and success between each party. Coaches share with athletes the drive, determination and strive to want to be better and increase performances on the world stage. We go on the journey with the athlete, through breath-taking highs and difficult lows, which is all part of becoming a great athlete and coach. If the connection with the athlete displays high support from the coach, but also high challenge then this is where the best performances occur, calling it the 'performance zone'.
What do you think business leaders can learn about high performance from sports coaching?
Planning and practice first come to mind here. In the sporting world, coaches are predominately helping their athletes to train/practice; sharpen their skills and mindsets to be able to perform at competition. It is this environment that promotes trying new ideas and techniques that allows athletes to express themselves and figure out new solutions. Sport coaches also aim to develop a culture that is highly focused, supportive yet challenging. Business leaders should allow employees to train and adapt their skills, giving them the space, time and opportunities to do this whilst demonstrating the vision everyday.
World-class sport coaches are often focused on developing an athlete's strengths and therefore apply strength-based working within their coaching practice. Coaches often ask questions on how to make an athlete go from good to great. Coaches are keen to share this way of working amongst others to learn and use teams around them to maximise an athlete's performance. Performance coaches will use technical experts in sport science and medicine to identify exactly what an athlete prioritises are to improve performance, with a view to establishing key processes goals which looks at breaking down big outcome goals into smaller chunks to simplify and illustrate the journey ahead. This process of sharing and collaborating is key in both sport and business and should be promoted to increase open dialogue amongst employees and internal teams to focus on going from good to great with a clear sight of the overall vision of what you are trying to achieve.
As co-founder of the UK Performance Coaches' Association (UKPCA) can you tell us more about the charity?
UKPCA is a member-led organisation, for the promotion and support of performance coaches in the UK. The overall vision is to help the UK's performance coaches to be the best/world leading by driving recognition and professionalisation and providing support, welfare and protection.
Success in sport is reliant on great coaching by coaches who understand the context within which they operate. Before the UKPCA launched there was no membership organisation whose sole focus was supporting and representing performance sports coaches.
he association is a unique partnership between UK Coaching, who provide the operational and management support, UK Sport who are supporting the initiative and driven/lead strategically by the leadership group, which is made up of six performance coaches, acting as the representative voice for coaches in the UK. It will help drive the recognition and professionalisation of performance coaching in the UK, providing a voice for coaches as well as working to help support coaches personally and professionally.
How can executive coaches get involved with UKPCA?
The UKPCA is open to any feedback and advice. Executive coaches' thoughts on this are truly welcomed. Obviously, if you have a sporting/sports coaching background the UKPCA would love to hear from you either as a full member or a coach who could offer expertise in building associations.
What has your coaching work taught you personally?
My coaching has taught me a lot about myself, how I cope with pressure situations and what behaviours I display when under conflict, pressure and stress. It has also given me perspective and skills that I will use for the rest of my life. These skills include building effective relationships, influencing and getting the best out of different people, embracing empathy and building transformational leadership behaviours.
Coaching has given me opportunities to change how I approach situations and given me the skills to understand exactly what my values are as a human being and how I adapt when these values when put under pressure.
What do you find most rewarding about your work as a coach?
It's quite simple; my work as a coach has helped transform my own leadership philosophy and helped athletes achieve their aspirations and long-term goals. To see people, grow as a result of your own coaching is the reason why I coach in the first place. The beauty about sports coaching is that you see how athletes have developed over time, how they go from being told what to do to eventually taking ownership and making key decisions for themselves to improve their performance. These life skills are ones that athletes will take with them throughout their lives and to know you had something to do with that is most rewarding.
Coaching is powerful, life changing and ever continuing….
An enormous thanks to Greg for sharing his valuable time and giving us a unique insight into the world of elite sports coaching. If you would like to become involved with the UKPCA you can contact Greg directly at gregbaker@britishparatabletennis.com or visit the UKPCA's website https://www.ukcoaching.org/ukpca.