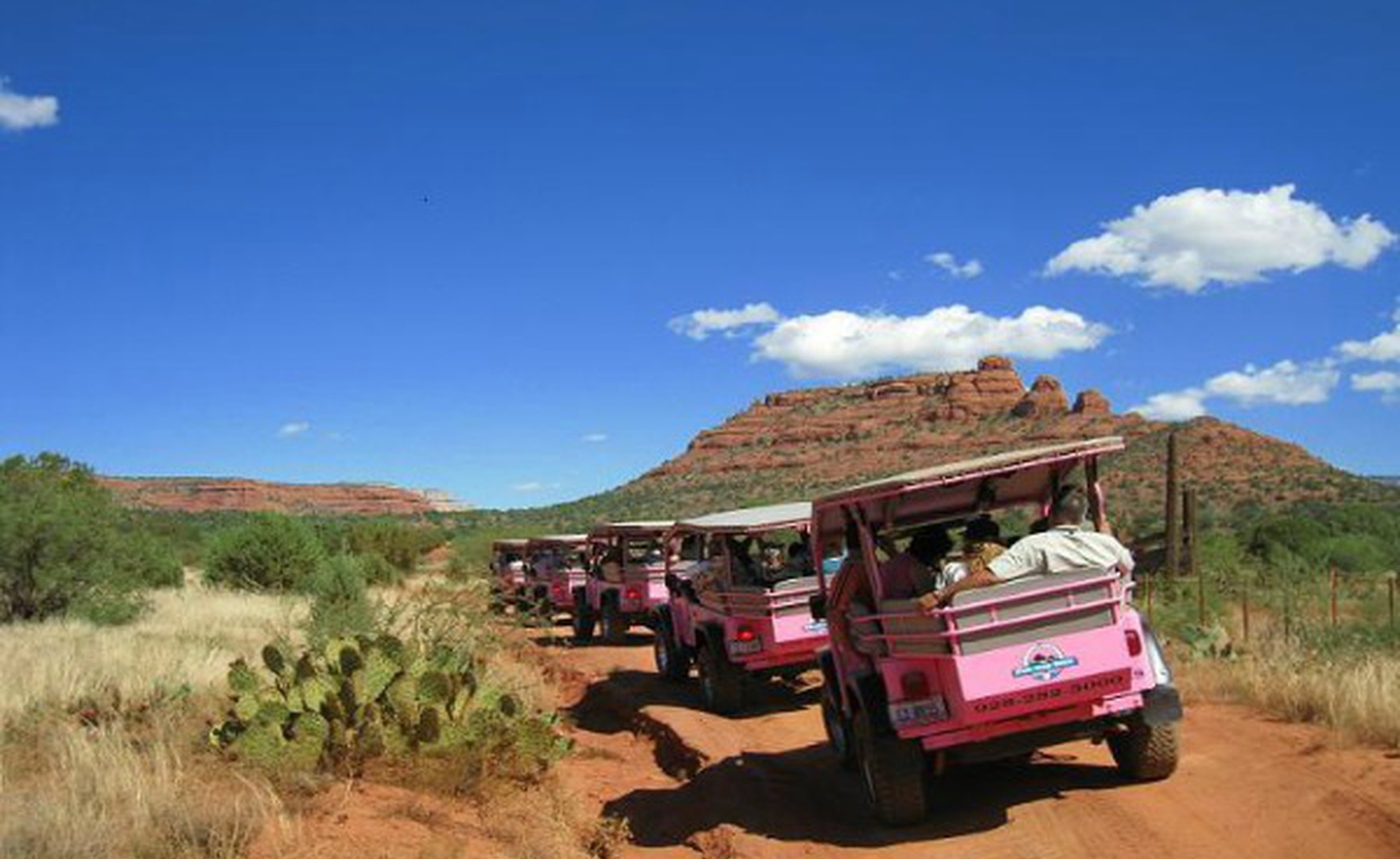 It's not every day you hear business people talk about things like Pink Jeeps and Return on Kindness, is it? "Excuse me, did you mean Return on Investment?" might be the usual quizzical response.
About two years ago, when Pink Jeep Tours decided to expand, it investigated exactly what set it apart from the competition and in which areas it could improve. The 57-year-old Arizona-based company, which offers sightseeing excursions around the Grand Canyon, Sedona and Las Vegas in bright pink jeeps, had set its sights on growth throughout the US and new markets abroad.
They are real charmers
So the company's management measured its customer loyalty and happiness scores and found that it wasn't just its eponymous vehicle colour that helped it score 91 out of 100 on the customer loyalty scale. It was the company's guides, who must complete 150 hours of training before giving a tour, that were the key in keeping customers happy and keen to return.
The guides are so warm and friendly that customers want to keep in touch with them after their excursions have ended. They deliver this experience in a different way than a lot of people are used to and customers can feel that.
Businesses often use sales numbers and profit figures to gauge how well they are doing. Or track other results, like competence, in order to measure employee performance. But when it comes to building trust with customers and within teams, it turns out that warmth is a key element to success.
Warmth is the real distinguisher between who we trust and are loyal to
A 2015 study of millennials from consulting firm Deloitte, showed that more than half of the participants surveyed felt that knowing more about their CEO's experiences in managing work and life would have a positive impact on their feelings about their workplace. The results show the need for executives to share more personal stories and communicate beyond just company strategy, especially for companies hoping to recruit and retain top, young talent. Warmth is the real distinguisher between who we trust and are loyal to but it doesn't show up in the profit and loss account.
Warmth in the business context
The idea of "warmth" is often misperceived. Warmth isn't about smiling more or being agreeable. Rather projecting warmth means that you're able to show someone that you care and share their goals or values.
When customers or teammates perceive that you are warm, they are really sensing that you are on their side. And people are more likely to trust others in their group.
That warm feeling that creates trust shouldn't be underestimated when it comes to improving business performance. While hard skills and competence are critical, warmth is what brings out the best in teams. And boosting warmth could be key for companies in building trust internally among employees. If everyone is highly competent, but out for themselves, it doesn't work.
Warmth is also what helps companies build positive relationships with customers and keeps them coming back. Reputation is a precious commodity when it comes to customer and employee loyalty, especially nowadays with ever increasing competition and with the advent of social media, where information travels further and faster than ever before.
Return on Kindness
From repeated surveys it has been found that customer perceptions of warmth accounted for over 40% of their willingness to recommend them over others.
And what of kindness, the one quality demonstrated by the best leaders that is seldom recognized? The good news is that being kind is one of the 9 trust building habits that author and executive coach John Blakey identifies in his acclaimed new book, "The Trusted Executive: Nine leadership Habits that Inspire Results, Relationships and Reputation".
And what does kindness do? Kindness produces positive social connections. Kind organizations have kind leaders who drive the flow of positivity within the workplace.
Gallup reported that 67% of employees are happier and more productive when managers focus on the positive aspects of their performance. It's also an example of upstream reciprocity—people with a high propensity toward gratitude are likely to act in a similar helpful way both to their benefactors and to others.
So, there you have it,'Pink Jeeps ROK'. Showing warmth and choosing to be kind as one of the nine habits of trustworthy leaders will help you create the kind of high-trust business environment around you that inspires results, relationships and reputation.
John Blakey and the AoEC have formed an enterprising new partnership to deliver the 'Journey of Trust', a leadership development programme for senior executives. For details visit www.aoec.com/consulting/developing-trusted-leaders/