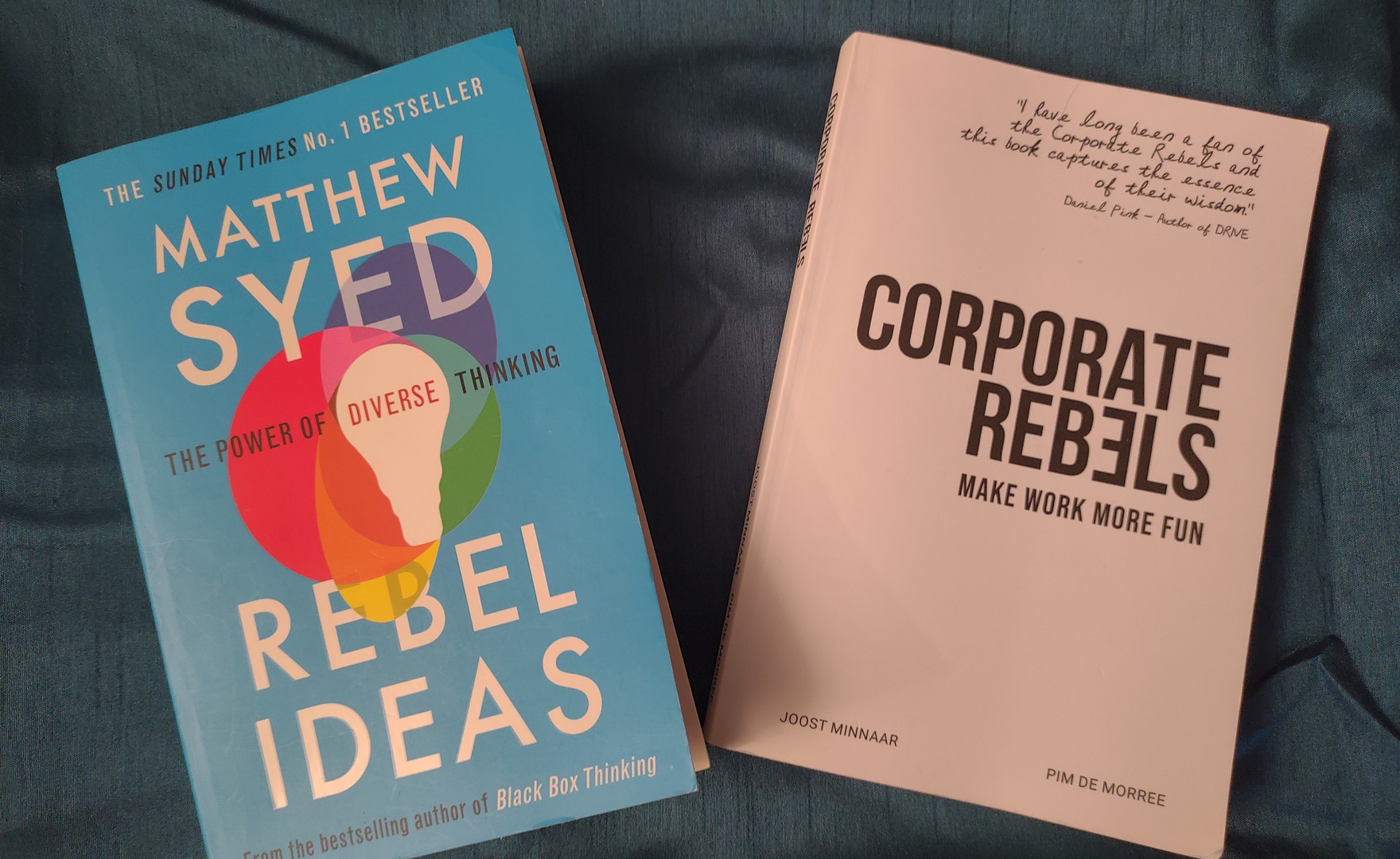 If you are looking for Christmas present suggestions for yourself or to fill the stocking of a loved one but want to give them something that will last longer than some chocolate coins, here are two good reads from 2020 to consider.
Corporate Rebels by Joost Minnaar and Pim de Morree
Corporate Rebels is Minnaar and de Morree's gift to making work more fun.
Their journey began in the Summer of 2015 as they sat in a beer garden in Barcelona discussing the sad state of their working lives. As their conversation turned to what work should look like, they jotted down the names of the business leaders and companies that inspired on the back of a beermat. Little did they know that this would lead to them quitting their jobs and embarking on a journey to understand how to work differently.
Making a bucket list of pioneers, rebels, revolutionaries, academics, employees, employers and business leaders, the authors visited five continents, more than 30 countries and interviewed over 150 of their heroes. Their learnings are shared in the book.
During these visits they uncovered eight trends and it is these that the authors claim that separate the bold from the boring and the most progressive workplaces from those riddled with frustration and despair. From profit to purpose and values, directive to supportive leadership, from plan and predict to experiment and adapt and from secrecy to radical transparency, their fascinating insights are supported with a useful list of practices and case studies.
Corporate Rebels is a well-considered and very unapologetic read. Its mission is to end the corporate grind and make work what is should be – purposeful, meaningful, and enjoyable.
In their intrepidness, de Morree and Minnaar have opened the door to businesses of all shapes and sizes, all over the world. What they describe is not so much rebel behaviour but more a coaching style of leading and managing organisations. In the closing pages they reflect on their adventure to date and how it has led to them working with organisations all over the world to become more progressive. This is more than just a business title; it is a movement and one that we should all play a part in.
Rebel Ideas by Matthew Syed
Syed's latest offering comes with great credentials as a Sunday Times number one bestseller and CMI's Management Book of the Year.
Here Syed examines the power of 'cognitive diversity' which is the ability to think differently about the world around us. He explains how to harness our unique perspectives and pool our collective intelligence, how to avoid blind spots and how diverse thinking can offer a huge advantage when it comes to doing business and leading teams.
Syed is a great storyteller and the approach he has taken in Rebel Ideas is perceptive, fresh, and illuminating. He uses many powerful stories to good effect in illustrating how cognitive diversity can solve some of the greatest challenges of our age. He draws us into this way of thinking by exploring a diverse set of case studies such as the systemic failings of the CIA to join the dots up and avert 9/11, a doomed expedition to Everest where a communication breakdown resulted in tragic consequences and how the ill-conceived decision to standardise the cockpit design of aeroplanes by the US Air Force led to numerous accidents.
In weaving these and other similar stories together, Syed delivers a radical blueprint for creative problem-solving. Without diversity of thought, he shows that innovation is stifled, blindspots remain unseen and teams are compromised in their performance. He challenges the conventional, the tried and tested and the idea of hierarchies as he takes you on journey that forces you to think again about where the best ideas originate from.
Rebel Ideas offers a masterclass in how to make the most of your team's individual strengths in the VUCA world – two or more heads is better than one. It nudges you into being more creative, bolder to try out the new and unknown so that you can create and share new knowledge. His ideas are well presented, and his intelligent narrative makes this a refreshing read when compared against more traditional leadership book releases. A thought provoking read for anyone involved in leading a team or managing a business.