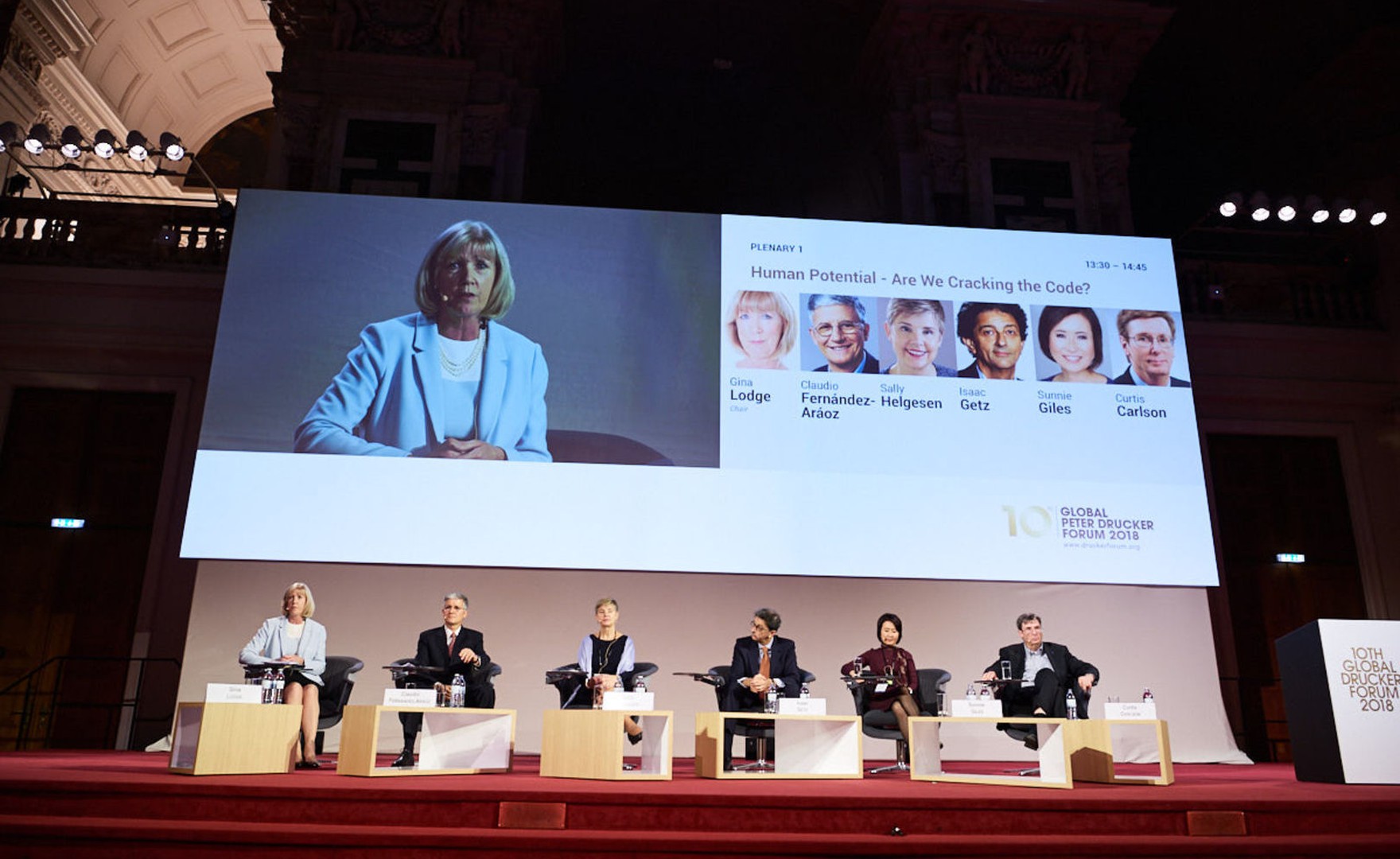 I was honoured to chair a plenary session at the prestigious 10th Global Peter Drucker Forum in Vienna at the end of November.
Ranked and respected as the world's leading management conference, it was an invaluable platform to explore what is right and wrong with current management and leadership practices. Pulling over 1,000 delegates comprised of eminent academics, top flight business heads, thought leaders and influencers from all over the globe, it also importantly involved the younger generation with a large contingent of young professionals and management students.

Provocative and stimulating, the event was issue-rich, with coaching having a strong underpinning to most of the topics opened to debate.
The main theme for 2018's forum - 'Management – The Human Dimension' - sought to remind us that everything from the economy, technology, business and government is shaped by human choice and intervention. In the business world which is being taken over with the use of AI and automation, we risk losing what should matter most – the human touch.
The forum is designed to invigorate fresh management thinking. Its vision is for a better society, a new paradigm for management where the human values of relationship, community, emotion and creativity are reasserted.
Its founder and organiser, Richard Straub, has talked openly about the responsibility of standing on Peter Ducker's shoulders to shape the future. He mused if "the logic of technocrats and algorithms was really our destiny?" Wanting to fire up a movement for change, the forum asked senior managers "what kind of organisations do we need in the future and what qualities will leaders need to guide them? How was the social technology of management to develop a new synthesis between the quest of efficiency and the freeing up of human creativity?"
Peter Drucker has contributed much to the modern industrial world and his legacy endures to this day. In the run up to the forum, the renowned executive coach Marshall Goldsmith said in his blog, 'Lessons I Learned from Peter Drucker', that Drucker's mission was "to help others achieve their goals – assuming they are not immoral or unethical!" His words powerfully resonate in a corporate climate where the human perspective is in danger of being relegated to the back benches.
The forum was overflowing with insightful topics and big-name speakers with input from, Deloitte, the Economist, Harvard Business Review, London Business School, Michelin and Unilever. The key takeaways for me were that there is a resounding need for businesses to make more positive, lasting change, to become more purpose driven and to be better at creating value. There is also an evident want for organisations to be better at celebrating diversity and inclusivity while showing empathy. More crucially, is the requirement to allow our people to find space to be able to think, innovate and create so we can get the best out of our workforce.
The outdated command and control management approach has been stifling innovation. Our leaders need to remodel, rebalance themselves and step up to actively think differently about how they operate in the future. They must refocus on learning how to draw out everyone's best thinking while focusing too on satisfying the expectations and demands of its community and connections.
Effective managers must nurture collaboration within the organisation in order to amalgamate knowledge, apply learnings and use experience and imagination to innovate. Problem solving can aid expansion, but organisations of the future that function with an entrepreneurial spirit and that challenge and enable its people to think freely and find new, better ways to grow and develop will be the ones who succeed.
While technology has been wonderful in allowing us to move away from repetitive and mundane tasks, AI will never be able to replace its human creator. Technology is one-dimensional and has no capacity for independent thinking, questioning, imagining, reasoning, designing or the ability to reimagine and improve what has gone before.
We are lucky to be gifted with these wonderful talents. It's our humanity that drives and engineers change and above all inspires and fosters trust. Businesses need to catch up and learn that change can only be for the better.