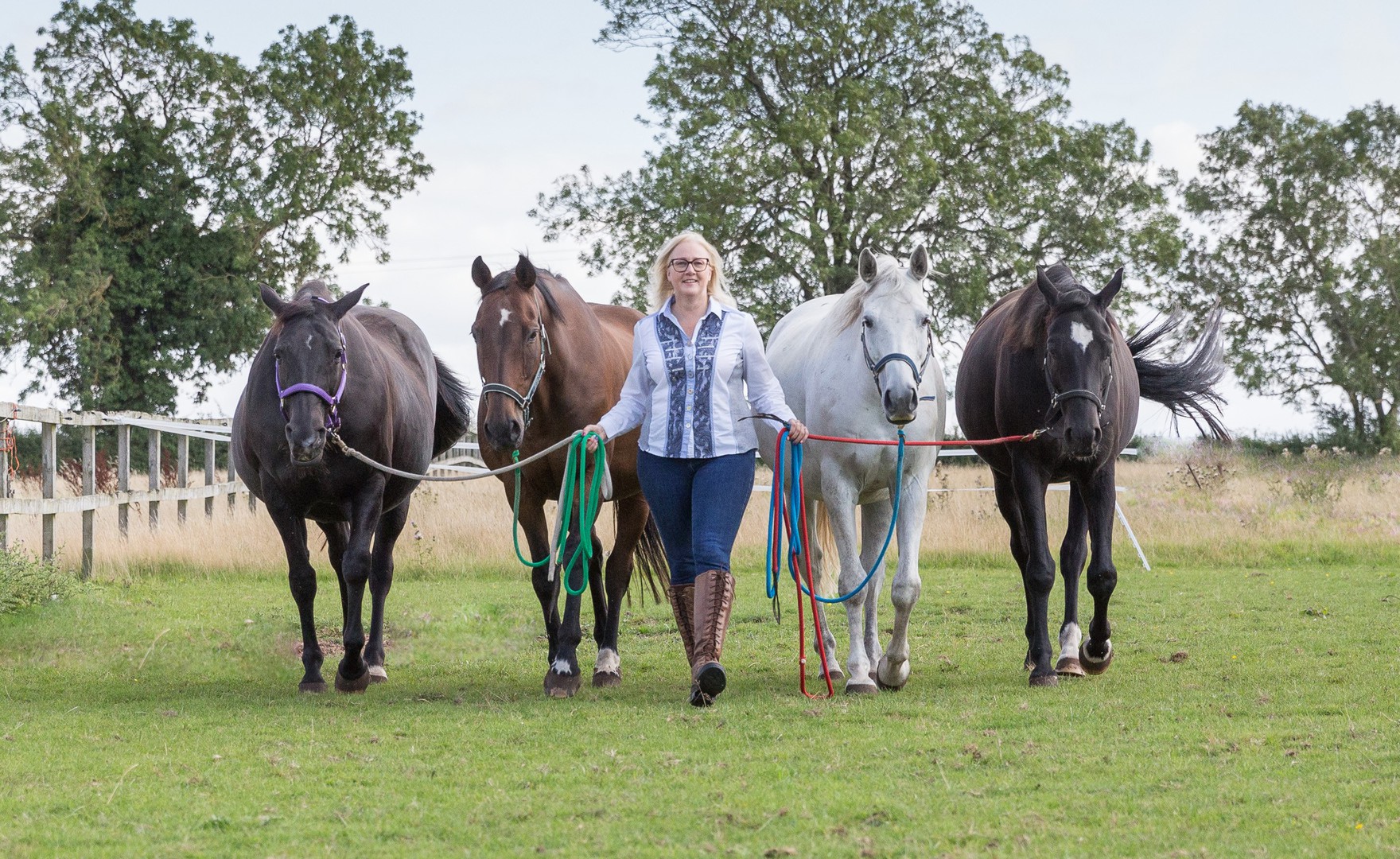 We had the honour of speaking with Jude Jennison who has just published her third excellent book Opus. Here she talks about her work with her equine team and all things coaching-related.
You are an award-winning coach, leadership expert, inspirational speaker, thought leader and published author. Having worked at IBM as a senior leader before setting up your own business Leaders by Nature in 2010, who or what introduced you to the wonderful world of coaching?
As a manager, I wanted to develop my people skills so I signed up to an in-house 'Coaching for managers' course and got hooked! I discovered I didn't need to have the answers. By being curious, asking questions and listening at a deep level, people would open up more and I'd understand them more. After that, I signed up to train formally as a coach with a professional coaching body.
After qualifying, I continued to work for IBM for a further 3 years, coaching people informally alongside my day job.
In 2010, I left to set up a leadership and coaching business. In 2011, I challenged myself to overcome my fear of horses. In the process, I discovered a way of coaching with horses to create personal transformation by revealing the default patterns of behaviour that make us brilliant as well as the ones that sabotage our success. Now, almost all my work includes coaching with horses.
What is your assessment of the key trends and challenges facing business leaders and organisations right now and what should they be doing to address them?
Almost every business has had to re-define its strategy and the shift to a hybrid working model requires everyone to adapt. After 18 months of change, this requires further resilience as everyone makes sense of what it means for them.
There is a real need to understand that resilience is not a bottomless pit and that if you can't cope, it's not a lack of resilience! Change and uncertainty affect everyone in different ways and leaders need to explore how they lead change in a way that enables the employees in the organisation to thrive. Stress levels, burnout and fear are close to the surface so more compassion, more understanding and more collaboration are needed to work together to move business forward.
In addition, uncertainty creates greater polarisation which requires leaders to develop the skills (in themselves and their employees) to work through differences of opinion, without needing to resolve them. Relationships, collaboration and compassion will be needed even more than before in order to achieve the results that businesses need to recover from the pandemic.
You describe yourself as being on a mission to make the world a better place. What values or leadership qualities are most important to you?
My company values are Radical change, Courageous action, Open heart and Thriving at work. Radical change is how we transform ourselves, business, society and the planet. Changing default patterns of behaviour can be challenging but a small change can make a radical difference to yourself and your team.
It requires us to have the courage to act differently, to continually stretch into uncertainty and work with it, rather than against it. It also takes courage to recognise that there is a different way of doing things and to have the humility to effect personal change.
We will always have differences of opinion in uncertainty. Having an open heart means acting with kindness and compassion and seeking to understand other points of view so we can work through our differences.
When we develop the skills above, people can thrive at work. I believe society benefits when everyone has the skills, leadership and wellbeing to enable them to thrive at work.
You are well known for saying every board needs a good horse. Can you tell us more about what you mean?
I work with a herd of horses to develop senior leaders and executive teams. The horses respond to your non-verbal communication, including your energy, emotions, what you think and feel, your intentions. Everything that you are rumbling internally (and think you are hiding), either consciously or subconsciously, the horses will sense and feel.
By working with the horses, leaders discover where they are brilliant as well as where they derail themselves or their teams. The results are dramatic, profound and rapid. As such, I believe that every board would benefit from understanding themselves and each other better. Working with horses provides them with honest, non-judgemental feedback without an agenda. CEOs and boards rarely get that quality of feedback from people and often ignore it when they do, but when a horse plants its feet and refuses to engage, it's an invitation to try something different.
I've witnessed leaders discover things they never realised about their impact, despite having been repeatedly given that feedback from people around them. Sometimes we can't see what we don't want to see.
One of the many great experiential workshops you run is Leadership with Horses. How are you developing leaders and teams by working with your equine colleagues?
All of my work with horses is on the ground. It involves people leading the horses in a variety of different situations. The horses will come with you if you provide a clear direction, build a strong relationship based on trust and mutual respect and give them the option of free will to come with you or not. It's about inviting, engaging and collaborating with them. When people balance results and relationships, the horses engage. When something is missing, it's a chance to be curious about what the horse wants or needs in order to engage.
In every situation, there is always a parallel with how people are leading at work and their key challenges always reveal themselves. By working with the horses, they get new insights on their impact, the team communication challenges and how to overcome them to align better and achieve results quicker and more easily.
I've had companies turn a loss-making division into a profit, and teams in conflict become aligned, as a result of working with me and my horses.
What has working with horses taught you about other people and yourself?
I've written three books worth of my own learning so far and there is plenty more to come! Some of my greatest learning has been how to stay grounded and calm in severe conflict situations, how to build trust with someone who is aggressive and violent, how to balance power with compassion, how to be confident in uncertainty and how to continually fine-tune my leadership so that I can engage different personalities in different situations.
I've developed other skills such as humility, vulnerability, intuition, creativity, testing assumptions, clear intentions, balancing plans with reality and flexibility… and so much more!
You are just about to have your third book 'Opus – The Hidden Dynamics of Team Performance' published. Can you tell us more about the book and what inspired you to write it?
Opus was published in June and explores the 12 hidden dynamics of non-verbal behaviour that impact every team. So much of how we relate to others is non-verbal. We may think we are hiding how we feel but people sense it and respond differently. For example, if you've had an argument with someone, you are more likely to engage with them next time on the defensive. This has an impact, and we can quickly spiral into a situation of mistrust.
A team consists of multiple relationships, some that work well, others less so. In order to align a team, you need to have everyone working together, speaking honestly about what is happening under the surface. This requires a level of vulnerability so it's a continual work in progress to deepen the relationships and levels of trust to be fully transparent to work through differences.
How have you seen the need for coaching change as we have gone through the coronavirus pandemic?
Stress levels have been substantially higher and people have been traumatised by the uncertainty of the pandemic. There is a need for coaches to be clear on their scope of practice and not get dragged into therapy conversations. The skill level of coaches therefore needs to be greater to know how to hold levels of stress and resilience and when to recognise a deeper mental health issue that requires a different kind of support.
In addition, the continuous uncertainty and need to respond to change requires greater flexibility, adaptability, creativity and agility. There is more focus on balancing results with relationships and how to have compassion for yourself as well as others in high pressure situations.
Also, working remotely requires a different skillset and the return to the office and a hybrid working environment will require further change and throw up further challenges with ongoing polarisation about how things should be done.
What are your ambitions for Leaders by Nature and what can we expect to see from you next?
I'm currently purchasing farmland to grow my business to provide corporate retreats, wellbeing retreats and expand the offerings to provide different ways for people to learn how to thrive at work, both individually and collectively in teams. I want more people to have the wellbeing, leadership and team skills to thrive at work.
What would you like your professional legacy to be?
To date I've worked with over 4000 leaders and teams. I'd like my legacy to be the thriving at work farm where people come to discover who they really are, how they can use their strengths and let go of what no longer serves them – whether that be skills, behaviours or stress.
Our deepest thanks to Jude
for taking the time to answer our questions.
You can buy Opus and Jude's other books from
Practical Inspiration Publishing
,
Amazon
and all other good bookshops