Advanced Practitioner Diploma in Executive Coaching
Advanced Practitioner Diploma in Executive Coaching
Transforming experienced coaches into exceptional ones. The accredited (EMCC and ICF) Advanced Practitioner Diploma in Executive Coaching is designed to give you the theory, practise, learning materials and long-term support network needed, to further your abilities as a first-class coach with a business focus.

This programme is accredited by: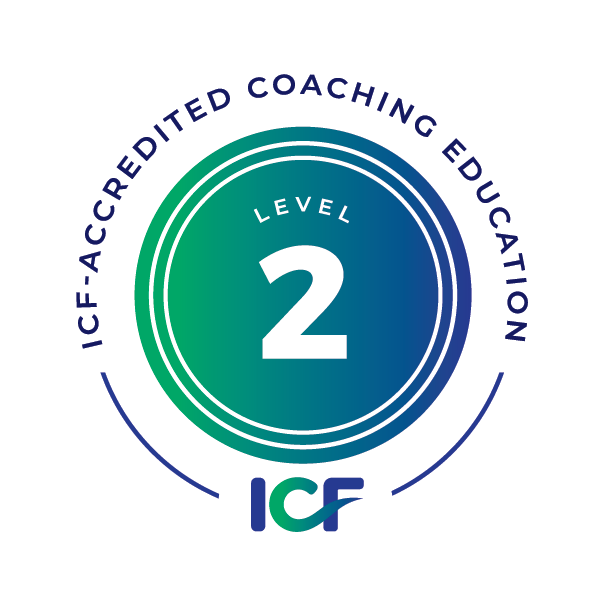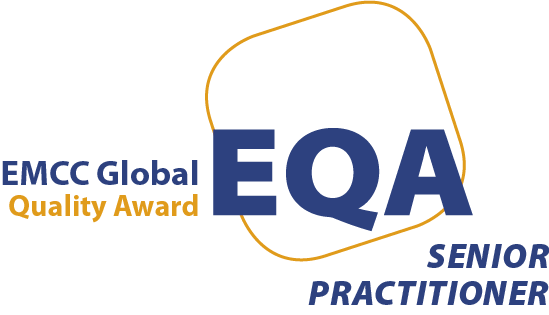 Upcoming dates:
07 February 2024 - 05 March 2025
Tunbridge Wells, UK/In-person
Advanced Practitioner Diploma - Open Event
If you are an experienced coach wanting to deepen your learning, your practice, and become an exceptional coach, join our free interactive session to discover more about the Advanced Practitioner programme, hear first hand from a previous graduate of the programme and have your opportunity to ask your questions.
26 Sept 2023
13.00 - 14.00 BST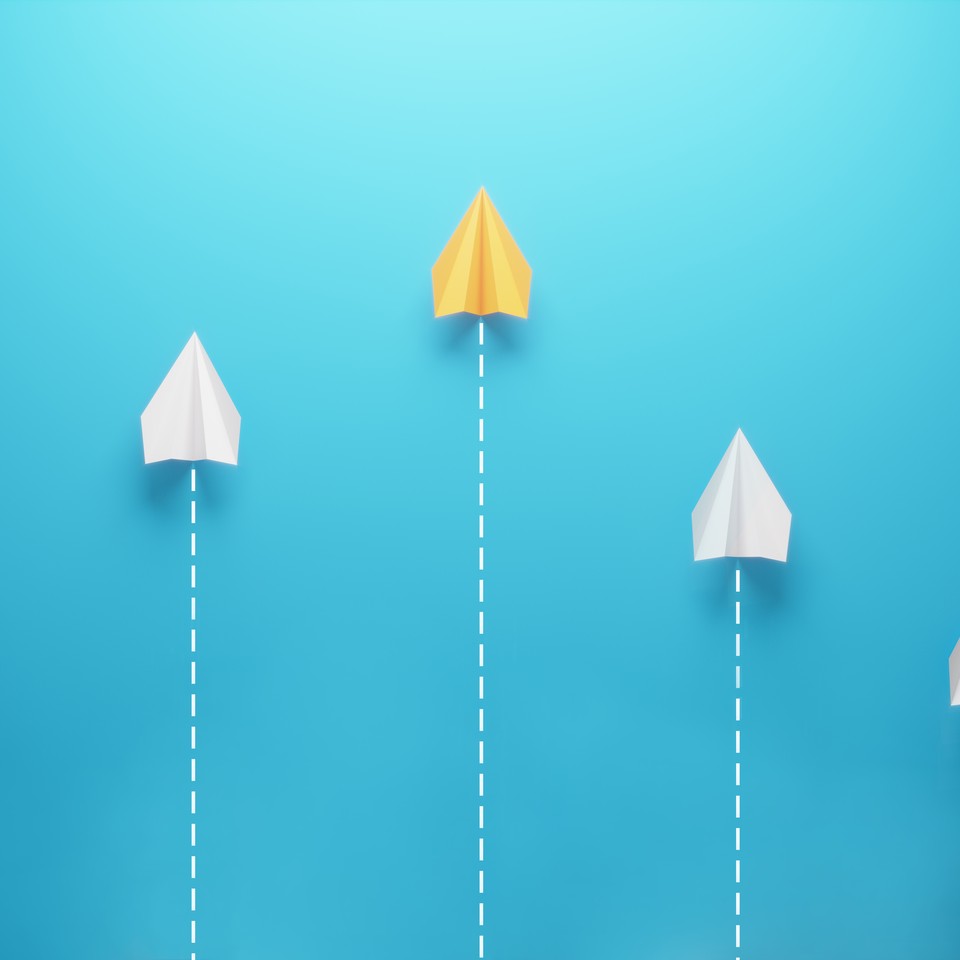 The aim of this diploma is to enable you to expertly coach leaders and senior executives within an organisational context at an advanced level. You will identify the type of clients you work best with, ensure you get the results you contract for and feel completely confident in your coaching practice.
This executive coaching programme is ideal for both internal and external coaches. Organisations that we have worked with include Hallmark Cards, Plymouth University and Resurgo Spear.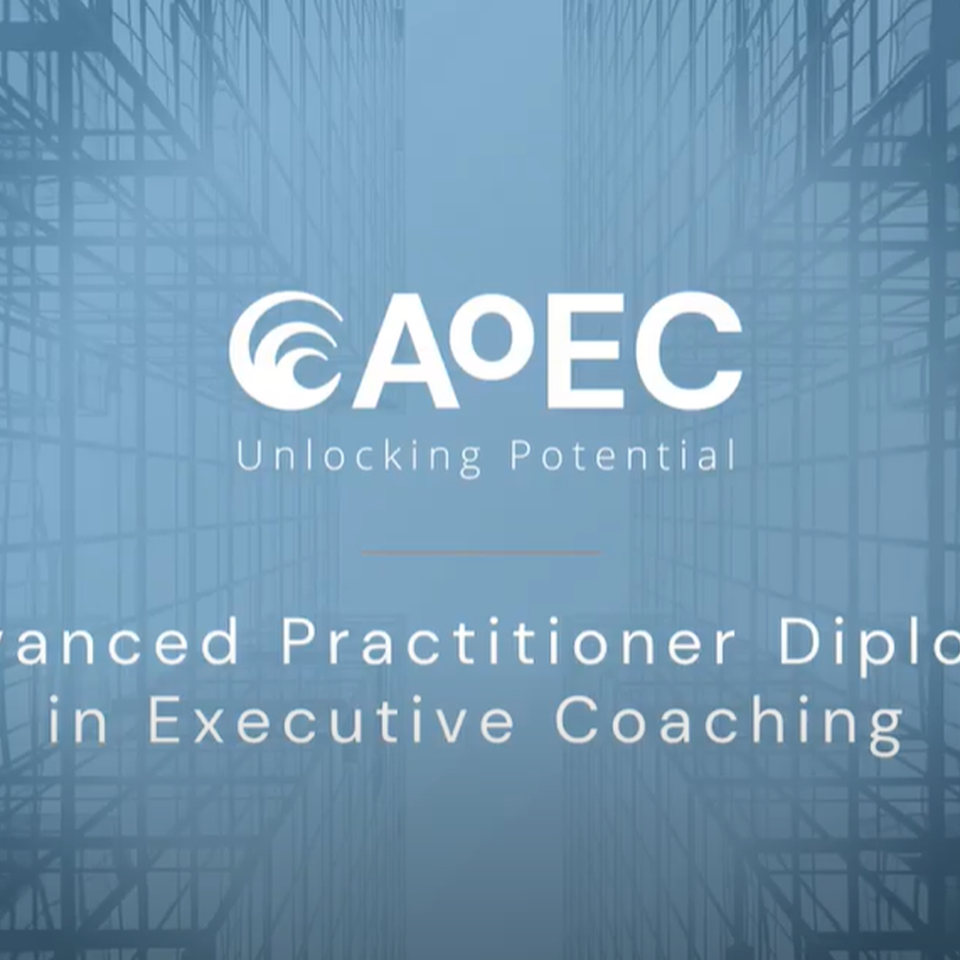 Benefits for you
Benefits for your organisation
Polish your self-awareness, cognitive knowledge, emotional intelligence and transpersonal awareness
Develop new strategies and your own personal coaching framework to work with clients or colleagues
Develop a good working understanding and grasp of psychological theory and practice to better understand motivation and self-limiting behaviour patterns
Gain a profounder understanding and knowledge of leadership models and theory to better coach senior clients or colleagues
Focus your coaching practice in a results-orientated style which parallels the work of senior executives who are expected to produce results within defined parameters
Deepen your core coaching competencies to coach leaders including creating the right foundations to facilitating personal transformation
Ensures your pool of in-house coaches are properly equipped with the best professional skills, knowledge and ethical understanding they need to coach at a deeper level
Fosters a coaching culture within your organisation to ensure you have experienced coaches to work with your leaders, managers and wider workforce
Increases the capacity of your leadership and management teams to lead through change, innovate and manage performance and development more effectively
Demonstrates tangible improvements as a result of the coaching intervention
What you will learn
Advanced coaching skills – businesses have increasingly stricter requirements for hiring coaching professionals as the market matures and becomes more sophisticated. This diploma goes deeper into coaching methodology, psychological theories and practice as it equips you with skills beyond the core coaching competencies that will enable you to expand your capabilities and grow your business.
How to do more in service of your clients – developing a greater understanding and knowledge of leadership models and theory will enable you to better support your senior executive and leadership clients as you learn how to create the right foundations to facilitate personal transformation.
Who you are as a coach and finesse your own signature model – you will be challenged and supported as you create your own learning. With an emphasis on doing, you will be practising a wider range of techniques and will receive rigorous feedback in order to give you a deeper insight into who you are as a coach, allow you to live your values and be able to authentically express who you are.
How to be more confident as a coach – we will work with you to support you as you grow in confidence and learn to truly trust yourself as a coaching professional. Adding a higher level of quality to your coaching approach, you will be stretched in a safe environment and will gain new perspectives as you work closely in your peer group and with faculty.
How you learn
This programme requires 14 days over 13 months and consists of several key elements:
Core curriculum – explores what makes advanced coaching advanced, a number of psychological schools of thought and the systemic context of executive coaching.
Skills practise and experiential learning – the AoEC highly values experiential learning and the importance of practising skills in a safe, expertly guided environment. Working in client-coach-observer practice groups, participants will receive robust feedback in order to drive consistent improvement.
Personal development – greater awareness of yourself improves your understanding of others. On the programme, we focus on us as a system and the interactions that take place within it.
An important element of coaching is the understanding of the relationship – our own, and our clients' responses. You will also be provided with group supervision.
Your learning experience
Together we will create a learning environment in which you will choose a style that best suits you and your coaching practice. Each participant will also act as the client to enhance coaching practise and address real business and development issues.
In order to achieve a vibrant learning community that reflects the dynamics of an organisational system, we have chosen a structure that draws on all our experience of best practice.
Orientation day to meet peers and faculty
Four 3-day modules approximately eight weeks apart to maintain momentum, continuity and integration
Practice groups, which meet physically or virtually between events to consolidate learning
10 hours of mentor coaching at PCC (Professional Certified Coach) level
An assessment day to complete the programme
Accreditation
EMCC (European Mentoring and Coaching Council)
The AoEC holds the Global Quality Award (Senior Practitioner level) conferred by the EMCC for the Advanced Practitioner Diploma.
Graduates of the Advanced Practitioner Diploma have completed the training requirements for EMCC Global Individual Accreditation at Senior Practitioner level.

For more detailed information see the EMCC Website.
ICF (International Coaching Federation)
The AoEC is a Level 2 ICF Accredited Coaching Education Provider.
The Advanced Practitioner Diploma is a Level 2 programme and accredited by the ICF for 131 total hours of coach-specific education.
Graduates of the Advanced Practitioner Diploma have completed the education hours, mentor coaching, and performance evaluation requirements for ICF Professional Certified Coach (PCC).

For more detailed information see the ICF Website.

Programme accredited by: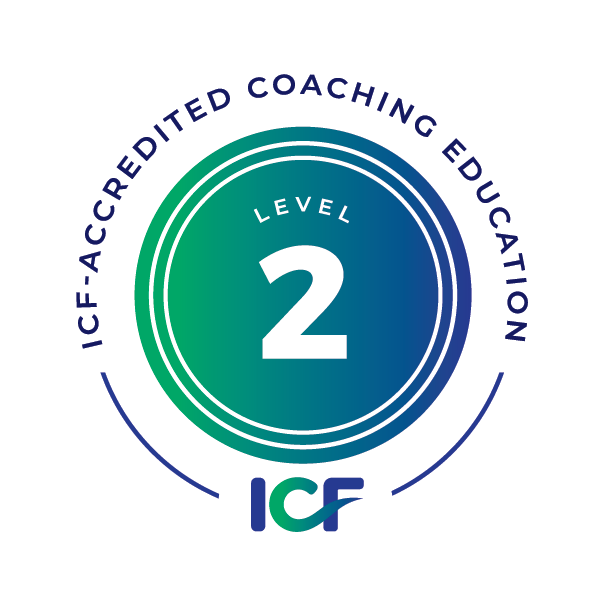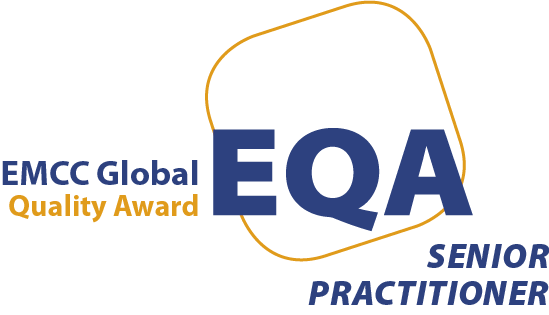 Who is the programme for?
This programme is suitable for experienced coaches who are working with senior executives and business leaders. You will already have substantial expertise of working with senior clients or colleagues as a practicing coach.
How many people will be on the course?
This programme is limited to a maximum of 22 participants to ensure you receive the highest quality learning experience and are provided with rigorous and direct individual feedback from faculty.

You can apply for the Advanced Practitioner Diploma in Executive Coaching programme online. To ensure it is the right programme for you, there is a thorough and thought-provoking entry process. This uses four questionnaires with a follow-up individual tutorial that will enable you to identify your strengths, development areas and then to create a personal learning plan for the course.
The two-stage entry process is:
Stage 1
Initial application, completion of competency self assessment questionnaires which provide a starting point for ongoing discussion and analysis, and will be used:
• to provide a basis for your Learning Plan
• at your first personal review.
Stage 2
In-depth personal review with a faculty member. Following this meeting you will hear whether you have been accepted or whether you will need a further tutorial.
If you would like to find out more before applying, please do not hesitate to contact us and we will be delighted to help you in any way we can.
Is there any pre-course work?
No but a comprehensive recommended reading list is sent upon acceptance onto the programme. This can be started prior to attendance.
Is this course residential?
Yes. Situated just two miles outside the spa town of Royal Tunbridge Wells, Salomons Estate is a stunning Victorian mansion, designed by the acclaimed architect Decimus Burton. Set in 36 acres of rolling gardens, parkland and woods, it enjoys an enviable location in the heart of England's garden, yet within an hour's travel of central London.
How much does the programme cost?
We have costed the programme at a level commensurate with top quality trainer fees and external course assessment/supervision and this has remained the same for several years. The course fees are £9,300 + VAT plus, there are additional residential costs of £1,600 + VAT.
What does the programme fee include? What do the residential costs include?
The programme fee includes attendance on 14 programme days, all study materials, access to AoEC learning platform, 10 hours of mentor coaching at PCC level and assessment.
Residential costs include refreshments, meals and accommodation at Salomons Estate, Kent, UK.
Is funding available for my training?
The programme fees (course fee and residential costs) must be paid before the start of the programme or, we also offer a payment plan which will split the cost of the course over 12 payments that will be taken via Direct Debit.
We recommend wearing comfortable, casual clothing on course dates.
What happens if I cannot attend all of the module dates?
Attendance at the orientation event, each scheduled module and the assessment day for your Advanced Diploma programme is required in order to successfully complete the programme. Please check all dates as advised.
Exceptions will be handled on an individual basis at the discretion of the faculty.
What happens if I don't pass?
Our primary aim is to create a programme of the highest standard that also reflects value for money. This means that we make a promise to get you through to graduation, provided that you undertake to submit all required work to the standard outlined by the tutors.
Should your first attempt at assessment be incomplete, we will arrange with you to repeat your assessment.
What additional support do I receive upon graduation?
On graduation you will receive a free 12-month AoEC individual accreditation. You will also receive free membership of the AoEC's Alumni Association along with discounted insurance and other discounts to specific services.
Are there any language requirements?
This programme is delivered in English.
You must be able to speak and understand clear English to undertake this programme.
Some of our Partners deliver programmes in the local language - please contact them to discuss.

Can I transfer course credit?
We expect applicants to commit to and complete the full programme. We don't currently accept transfers of course credit from other programmes. If, in exceptional circumstances, you do not complete the full programme, we will provide written confirmation of the hours completed.
What past participants have said:
"The APD really challenged and stretched me as an experienced executive coach, exactly as I hoped it would. My fellow participants were high quality people and we learned from each other, as well as from the highly experienced and inspiring faculty. You really do have to figure out what your own model of coaching is, and how you are grounding it in the literature, learning and psychology. If you want to take your coaching to the next level, you should definitely consider this programme."
Matt Nixon
"I have benefitted greatly from participating in this programme which holds a good balance between support and challenge, care and rigour, and provides an all-round professional formation for executive coaching."
Elspeth Rolls
"A well rounded, brilliant, course that has improved my coaching in so, so many ways. Fantastic faculty with a great mix of recent graduates and the more experienced. Very grounded, and gets the balance right between supportive and challenging."
Richard Roberts
"The Advanced Practitioner Diploma course takes a competent coach and empowers them to raise their own bar. It drives aspiration, requires serious work, encourages personal development and creates a network of fellow coaches, many of whom become both friends and mentors."
Pippa Isbel
"I am very happy with my choice of programme – high calibre faculty (including the assistant faculty), a diverse group of participants and great content coupled with a very practice-oriented approach. If I had to make the decision again, I would choose the same programme again."
Sabine Stanley
Advanced Practitioner Diploma Core Faculty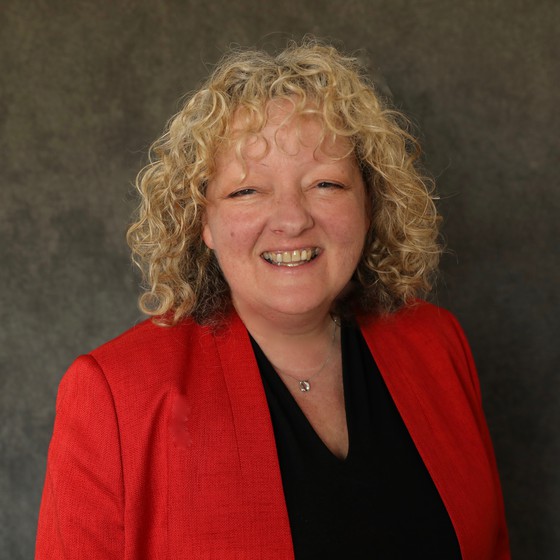 Sarah Carrington Head of Education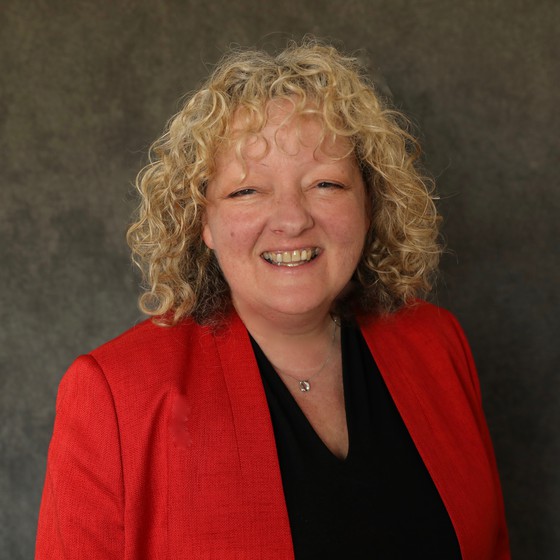 Sarah Carrington
Sarah is our Head of Education and is an ICF Accredited Executive Coach, working with leaders and leadership teams to strengthen their performance and achieve competitive advantage for them, for their stakeholders and for their organisation. She has extensive experience of leading teams in complex, dynamic environments from many years at one of the top FTSE 100 companies. Sarah is a member of Faculty for the Advanced Practitioner Diploma and a coach supervisor. She supports and challenges people to discover how they are holding themselves back and how they can drive themselves forward. Sarah's coaching qualifications include the Master Practitioner Diploma in Systemic Team Coaching and the Advanced Diploma in Executive Coaching.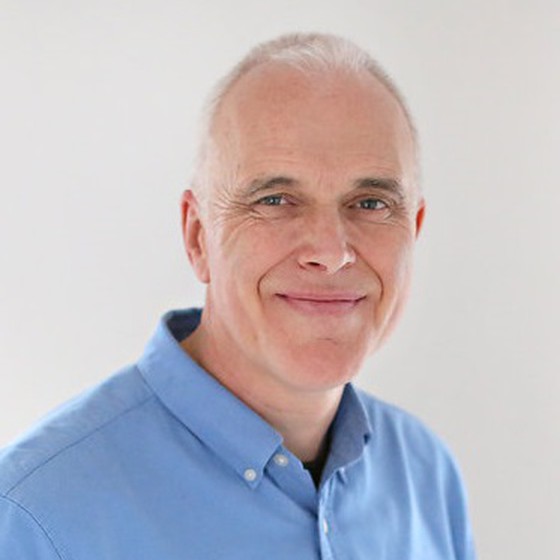 Nick Kitchen Faculty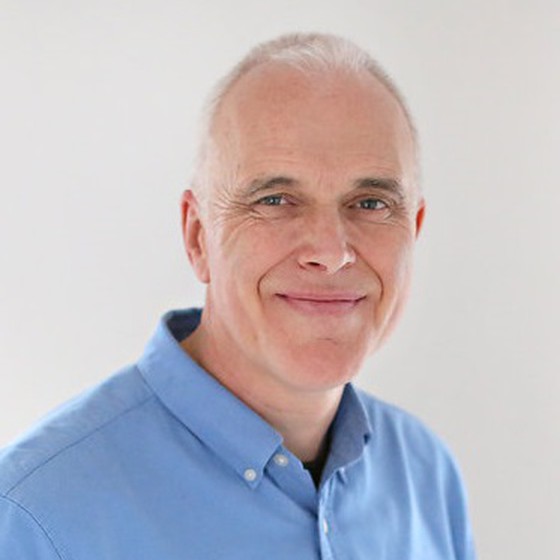 Nick Kitchen
'I am passionate about developing the craft and profession of coaching to support and help individuals and organisations more effectively respond and flourish in the face of increasing volatility and complexity – the world needs great coaches more than ever!' Previously new business director of international advertising agency TBWA, Nick is an experienced senior executive and team coach, trainer, facilitator, coach supervisor and engaging event speaker, with more than twenty five years' experience in supporting the development and success of organisations and leaders throughout many parts of the world. His clients have ranged from SME entrepreneurial organisations to large multinationals across many sectors including automotive, financial services and banking, IT, media and creative, pharmaceutical, industrial, oil exploration, public sector and charities. He has been developing coaches for over twenty years, drawing particularly on his development of Somatic Cognitive coaching and facilitation which enables coaches and leaders to engage with their deeper embodied experience and thereby impact more effectively that of their groups and wider systems. He has been a member of faculty with the AoEC since 2009, principally on the Advanced Diploma in Executive Coaching and the Systemic Team Coaching Diploma. Nick's professional qualifications include: · Developer of Somatic Cognitive Coaching and facilitation · Developer of IIMAC© sales process · AoEC Diploma in Advanced Executive Coaching (Distinction) · ICF Professional Certified Coach Accredited · Accredited NLP Trainer