Personal Growth and Wellbeing: A Certificate in Personal Growth for Coaches
Personal Growth and Wellbeing: A Certificate in Personal Growth for Coaches
Coaches can only support their clients effectively and sustainably if they can listen deeply to their own needs. Self-care is the basis of the capacity to evoke awareness in others. But how can this be realised?

In this virtual programme consisting of six half-day sessions with Bart Weetjens, you will explore what grounds and balances you well and how you can bring this awareness to your coaching practice.

Upcoming dates:
There are currently no dates available for this programme. If you would like to be kept informed of upcoming dates please click the button to get in touch.
What you will learn
In the six video clips below Bart describes what will be covered in each session.
How you learn
In a small group of participants, you will engage on an experiential learning journey where you will gain new insights into mental health and wellbeing in an interactive way. You will discover powerful tools to support personal growth, both for yourself and your clients.

You will be supported in your self-management by devising your own strategy to become a more fulfilled and resilient version of yourself. You will learn to listen deeply to your personal needs, set healthy boundaries around them, and communicate effectively about it.

The programme comprises six half-day sessions spread over six weeks. You will need to plan one extra hour per week for homework between the sessions. This programme will also require you to engage hands-on in your own wellbeing experiment and be ready to share your findings with your cohort.

Your learning experience
All six of the weekly sessions of this programme will run virtually via Zoom, as we wish to maximise accessibility for participants and to minimise the carbon footprint.

Learning outcomes
Understanding the impact of presence on the coaching relationship
Connection to your sense of deeper purpose
Enhanced awareness and leverage of character strengths
Development of strategies to transform learnings into action and sustain your coaching practice
Clarification of your personal needs and ability to set healthy boundaries
Appreciation of the value of personal work to facilitate client growth

Accreditation
This is a certificate level programme; on completion you will receive a certificate of attendance from the AoEC.

Personal Growth and Wellbeing: A Certificate in Personal Growth for Coaches is accredited with the International Coaching Federation (ICF) for 24 CCEUs (Continuing Coach Education Units) - 17 Core Competencies and 7 Resource Development.
Programme accredited by: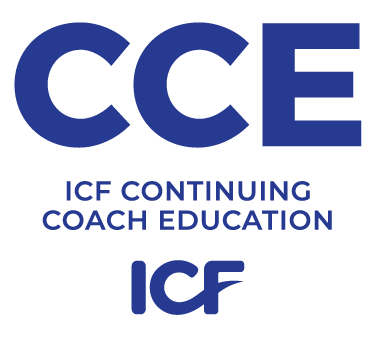 Who is this programme for?
The Personal Growth and Wellbeing programme is for practising coaches who wish to align their inner and outer world to improve the effectiveness of their coaching practice. Participation will enhance your self-awareness and support you to evoke awareness in your clients.

Is the programme always run virtually?
At the present time all six sessions of this programme will run virtually via Zoom, as we wish to maximise accessibility for participants and to minimise the carbon footprint.

How many people will be on the programme?
This programme has a maximum of 18 participants to ensure we deliver a high-quality learning experience.
Do I need to do any preparation before the programme?
No need to prepare anything in advance of this programme. We do however expect every participant to show up openminded and wholeheartedly, to offer and receive openness and a safe space for this inner adventure.
Who are the Faculty for this programme?
We are privileged to be working in partnership with world renowned Bart Weetjens who not only designed this bespoke programme but will also be delivering it.

You can find out more about Bart's inspirational life by clicking on his image below.
You can apply for this programme using the form available on this webpage.
If you would like to find out more before applying, please do not hesitate to contact us and we will be delighted to help you in any way we can.
Faculty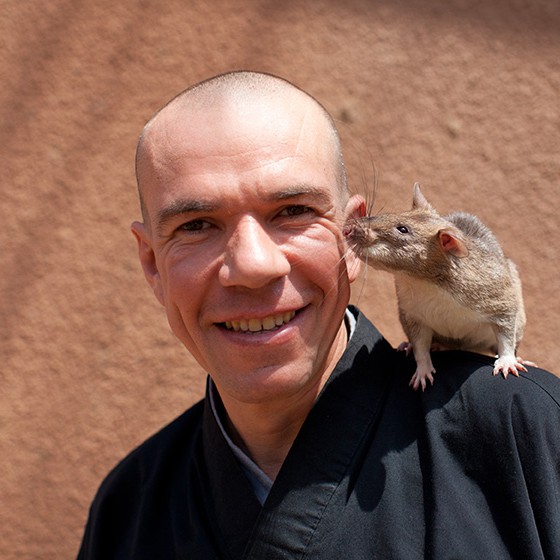 Bart Weetjens Faculty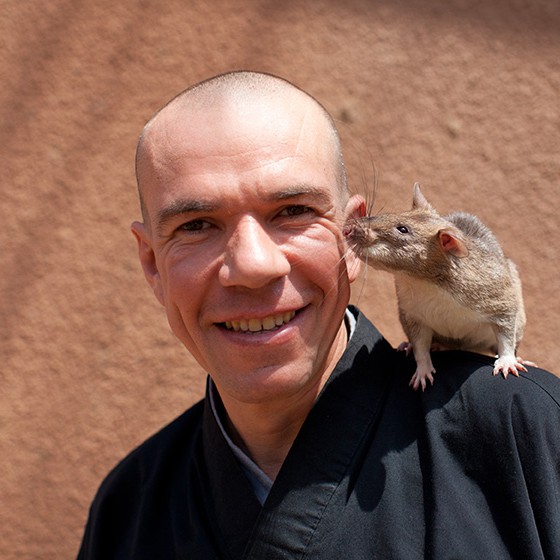 Bart Weetjens
I am a Zen Buddhist monk and social entrepreneur. Graduated in Product Design from Antwerp University, and with a vision to empower the most vulnerable communities of subsistence farmers in sub-Sahara Africa, I took the initiative to train rats as sustainable detectors in response to the global landmine problem. What started in 1995 as a modest research initiative in detection rats technology, gradually grew into a global humanitarian operation. Twenty years after my initiative my organisation had become one of the leading social enterprises in the world, recognised and awarded by networks like Ashoka, the Skoll Awards and the World Economic Forum. When Mozambique officially announced itself free from landmines in 2015, I transitioned from my executive role to focus on the practice of Zen. In the same year I got involved in The Wellbeing Project which aims to catalyze a culture of inner wellbeing for all changemakers. While exploring the relationship between personal growth and social action, I recently undertook a new initiative to develop a holistic permaculture/wellbeing center in the French Ardennes: La Grande Terre, where I facilitate many of my Zen workshops and individual coaching trajectories.