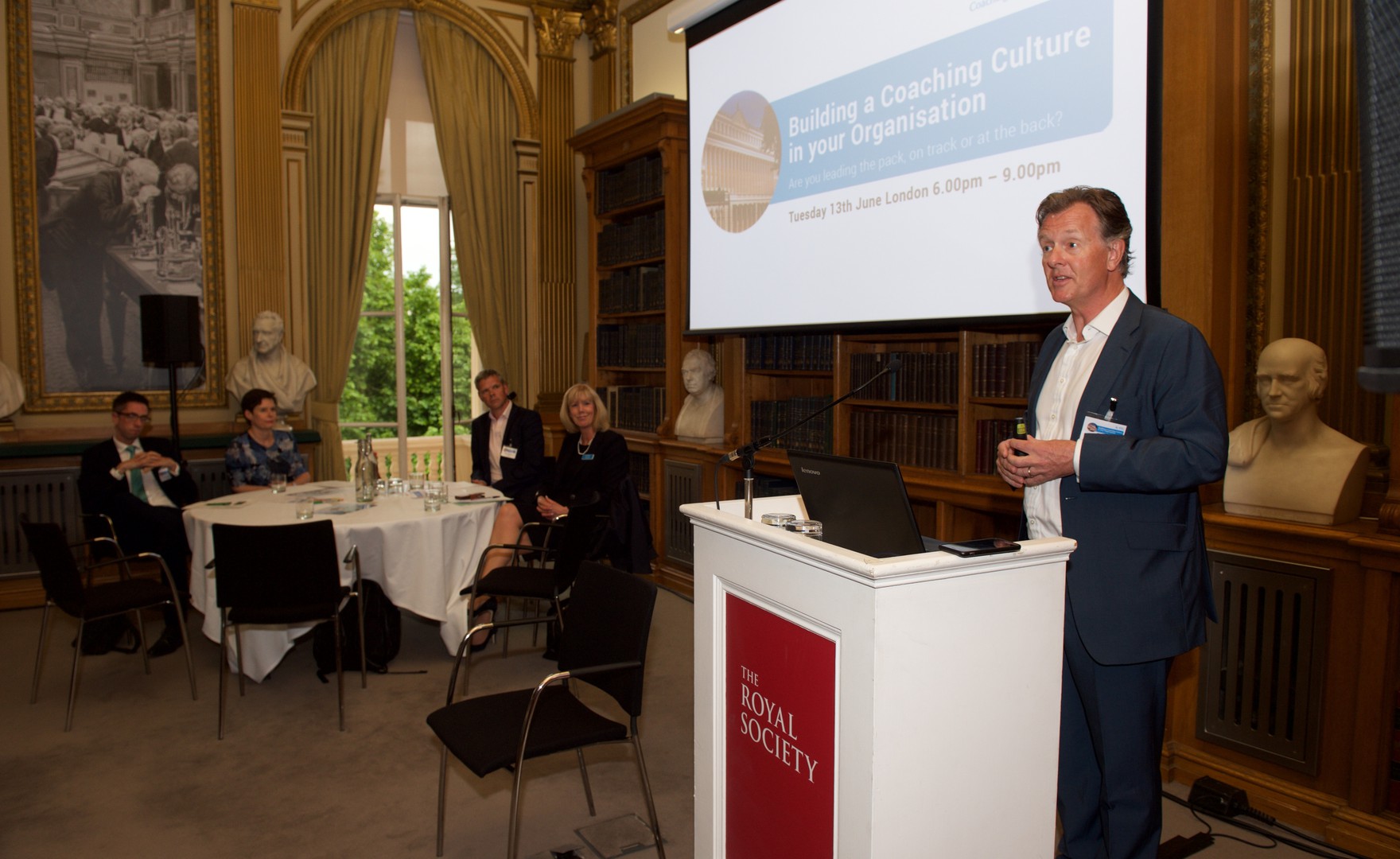 Guests from a wide variety of organisations joined the Academy of Executive Coaching (AoEC) at The Royal Society in London, for an evening of discovery and sharing, with an agenda designed for those at various stages of development in building a coaching culture.
Having recognised the desire from individuals to make wider use of coaching skills and increase the impact of coaching in the workplace, we believed it was time to get people together in support of sharing knowledge, and best practice. The response exceeded expectations and with the room at capacity there was a buzz of conversation as people compared their own experience with others.
Clive Mann of Ridler & Co showcased some of the key findings from the most recent 6th Ridler Report, highlighting that coaching continues to be a growth area within organisations, as well as team coaching and that budget for this is expected to increase. The Ridler report is unique in that the data is supplied by the commissioners of coaching, rather than Coaches, Coach training companies or the Accrediting bodies.
Kevin McLean, Head of UK Talent & Learning and Jo Winchester, Executive Director from CBRE presented a compelling story of how CBRE have been building upon their use of coaching and the impact, both within the company and also individually. This prompted much thought and questioning and it was so marvellous to observe the enthusiasm in the room as David Kesby, AoEC Chief Consultant guided people through an interactive session on their own next steps.
The evening concluded with time to continue conversations with like-minded professionals over drinks and canapes making the evening a very enjoyable event in the beautiful surroundings of the Royal Society overlooking the Mall and St James's Park on a warm Summer evening.
Gina Lodge, AoEC CEO said, "AoEC are committed to supporting the development of high performing organisations through its people. It was inspiring to see so many engaged champions in the room who are making great progress."
All attendees received a complimentary copy of the 6th Ridler Report.
If you are an HR/Learning Development Director or CEO and would like to be notified of future events and receive a complimentary copy of the 6th Ridler Report please contact Karen Smart at karen.smart@aoec.com.